Skip To Content
Take 30% Off Your Order + Free Shipping on $50+ • Use Code SAVE30
Offer Expires at Midnight
Where can you buy personalized leather bracelets?
At Eve's Addiction of course! Leather bracelets are forever in, occasionally disappear for a while, then return again on the runways usually in a grand resurgence. With leather bracelets for women and men both in fashion, it's important to find a leather style bracelet that will last the test of time and that's comfortable for everyday wear. Not many people are rushing to pair their wrap leather bracelet with their evening dress, so when do they wear them? Leather bracelets designs are meant for every day wear. That's why these modern leather bracelets designs need to be strong, but also very comfortable. The leather wrap bracelets and modern leather bracelet options we've featured below can all be customized for a style that won't soon go out of fashion and also is comfortable to wear every single day.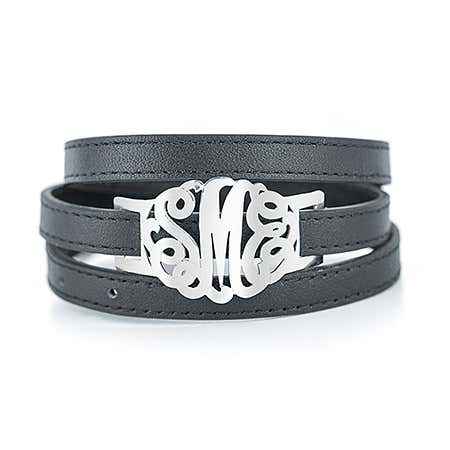 Custom Monogrammed Leather Wrap Bracelet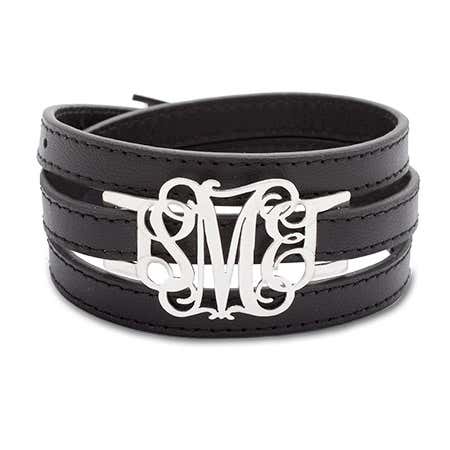 Custom Monogrammed Leather Wrap Bracelet in Script
Monogrammed Leather Wrap Bracelets
Try a monogrammed leather wrap bracelet if you're seeking a modern designed bracelet with long lasting style. Both of these monogram wrap leather bracelets will be very comfortable and will mold themselves to your body shape after you've worn them for a few weeks. Choose between a traditional script font or a fancy script font for your customized monogram leather bracelet, or create a bracelet online as a gift for someone you care about. Custom monogram leather bracelets make excellent gifts for friends, family, and loved ones, and these personalized bracelets ship in 24 hours or less to you or your special recipient. Custom leather wrapping bracelets will look nice paired with your general work attire, or jeans with T-shirts for the weekends.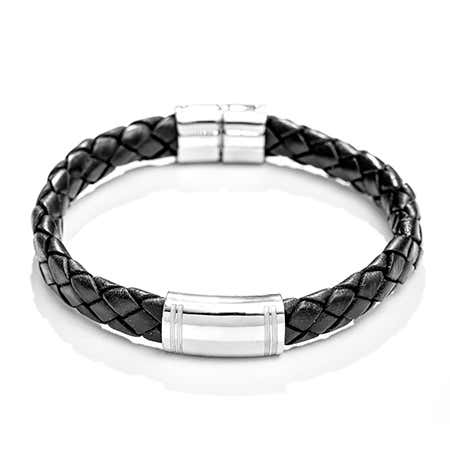 Engravable Black Leather Braided Bracelet
Engravable ID Leather Bracelets
If fun designed wrapping bracelets in leather aren't for you, then you may be more inclined to try out an engravable id leather bracelet. A simple black leather bracelet can feature a custom name plate designed by you! You could also pair an engravable brown leather bracelet with your favorite warm hued dresses, or for him, brown or blue suits, for a chic and elegant finish to anyone's ensemble. The custom engraved braided leather bracelets feature a wider leather band braided into a modern leather bracelet style with a slightly round engravable name plate at the front. Customize a leather bracelet online for yourself or friends and have your first, last, or full name engraved across the front. There are even pink engravable name plate leather bracelets if you're looking for a personalized spring accessory that's lightweight and fun to wear. Have braided leather bracelets engraved for yourself or give them as gifts for birthdays, or other special occasions as mementos.
Leather Coordinates Bracelet
Though this particular custom leather bracelet style is not made of real leather, it still has a durable body and features a fun engravable plate in stainless steel at the front. This custom leather coordinates bracelet, also referred to as a leather latitude and longitude bracelet, can feature engraved coordinates of a special place that means something in particular to you. Whether it's from your favorite vacation, or maybe where you met a husband or wife, or perhaps where you went to school, this personalized coordinates leather bracelet it's a jewelry piece you'll enjoy wearing every day with meaning. With a custom bracelet design like this in your leather jewelry collection, be prepared to answer a lot of questions. With such a unique faux leather bracelet design, people are sure to ask you what your coordinates stand for, and what spot is meaningful to you.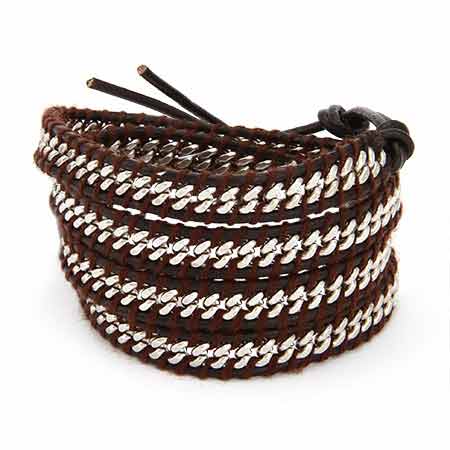 Multi Brown Leather Wrap Bracelet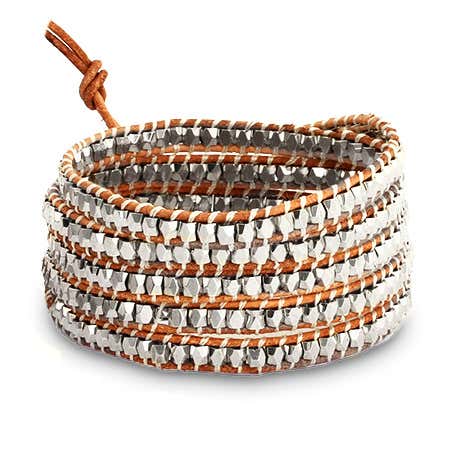 Multi Tan Leather Wrap Bracelet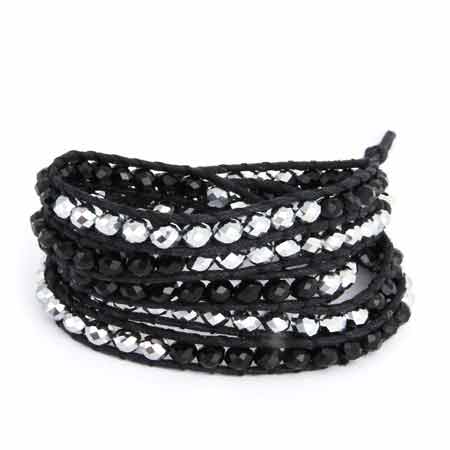 Multi Black Leather Wrap Bracelet
Multi Wrap Leather Bracelets
We love personalized leather bracelet pieces as much as the next person, but sometimes you just want something else. If you like not only a wrapping leather bracelet, but also a multiple leather wrap bracelet, then these braided leather and bead or chain designs should be right up your alley. The black leather bracelet with silver chain insert is very modern and has a nice weight to it. It's a great inexpensive leather bracelet piece with a heavier luxury bracelet feel to it. Metal and leather bracelets don't stretch as much over time as fully leather customized bracelet designs, so be aware of that when choosing your leather bracelet's length. For a dressier look, try leather and crystal bracelets, or leather bracelets with beads woven in. These are fun for day wear, but actually can be worn into the evening for date night looks if paired appropriately with the right outfits for your occasion. For women, this may be pairing your little black dress with a leather wrap bead bracelet, while the black leather and chain bracelets will look good with men's jeans and a sweater or dress shirt.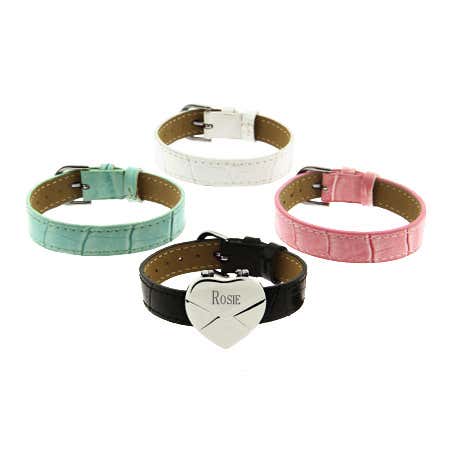 Engravable Heart Leather Bracelet Set
Leather Engravable Heart Bracelets
Another customized leather bracelet online that's fun and frequently ordered too, are the engravable heart message bracelets. These heart shaped bracelets feature a sterling silver heart case with an engravable message on a sterling silver plate on the inside. You can order different colors of engravable sterling silver heart bracelets, or just order the custom heart bracelet set all together and change out the colors as you wish. This is a very fun leather bracelet set that you could purchase one time, and enjoy pairing and mixing and matching it's various color bands with different outfits for different seasons.
The next time you're wondering where to buy leather bracelets be sure to revisit us here at Eve's Addiction jewelry. We add new jewelry designs every month and most of our pieces are personalized jewelry options from custom name plate bracelets, to engravable ID bracelets, custom monogram bracelets, and even custom charm bracelets and photo bracelets. The sky's the limit with our jewelry personalization capabilities. If you can dream it, we can build it, and probably in 24 hours or less!
↑