Skip To Content
Take 30% Off Your Order + Free Shipping on $50+ • Use Code SAVE30
Offer Expires at Midnight
What is a Tennis Bracelet?
Today when asked what a tennis bracelet is, the general response from just about anyone is, "a diamond bracelet". While that statement is true, there's a colorful history behind the tennis bracelet that is both fun to learn and equally fun to share with others. Two things that go hand-in-hand when discussing the origins of the tennis bracelet are – Diamonds and – Chris Evert.
Who Was Chris Evert?
To learn about the history of tennis bracelets you have to know about Christ Evert. Chris Evert was a young famous tennis player who in the 70's was at the top of her game. Not only a recognized strong female figure, but she was also a competitor – and winner - of the US Open, and in 1985 the Women's Sports Foundation awarded her with the title of the "greatest woman athlete" in the previous 25 years.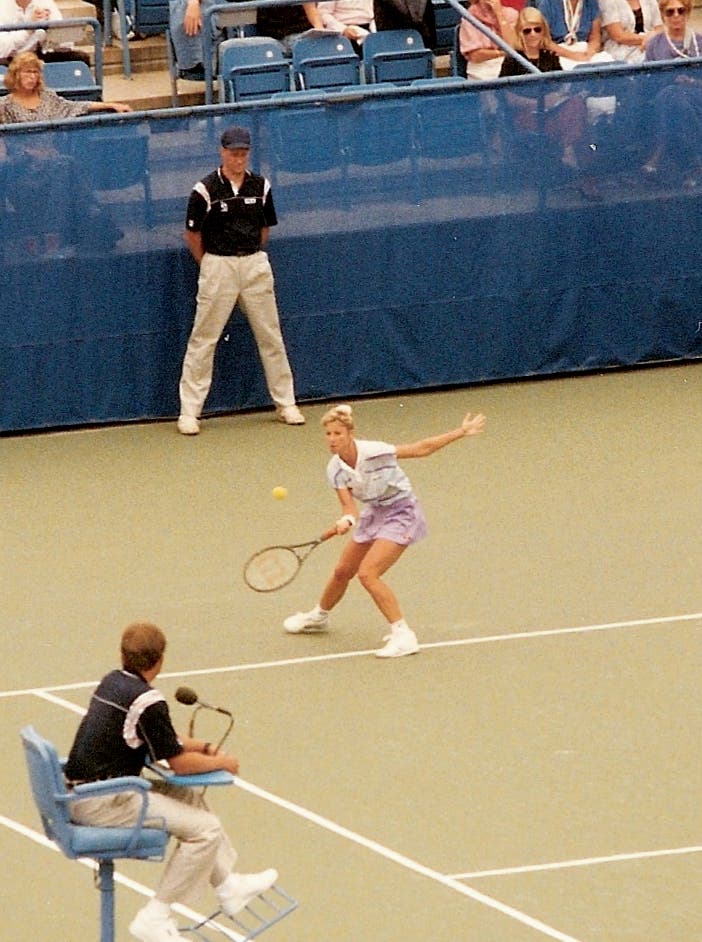 Why a Tennis Bracelet is Called a Tennis Bracelet
In 1987 while playing tennis as the US Tennis Championships, Chris Evert's diamond tennis bracelet flew from her wrist due to a broken clasp. She requested that the tennis match be paused until she was able to locate her broken bracelet on the tennis court. After somewhat begrudgingly granting her request and locating the faulty bracelet, it was from that moment onward that the piece of jewelry became referred to as the "tennis bracelet".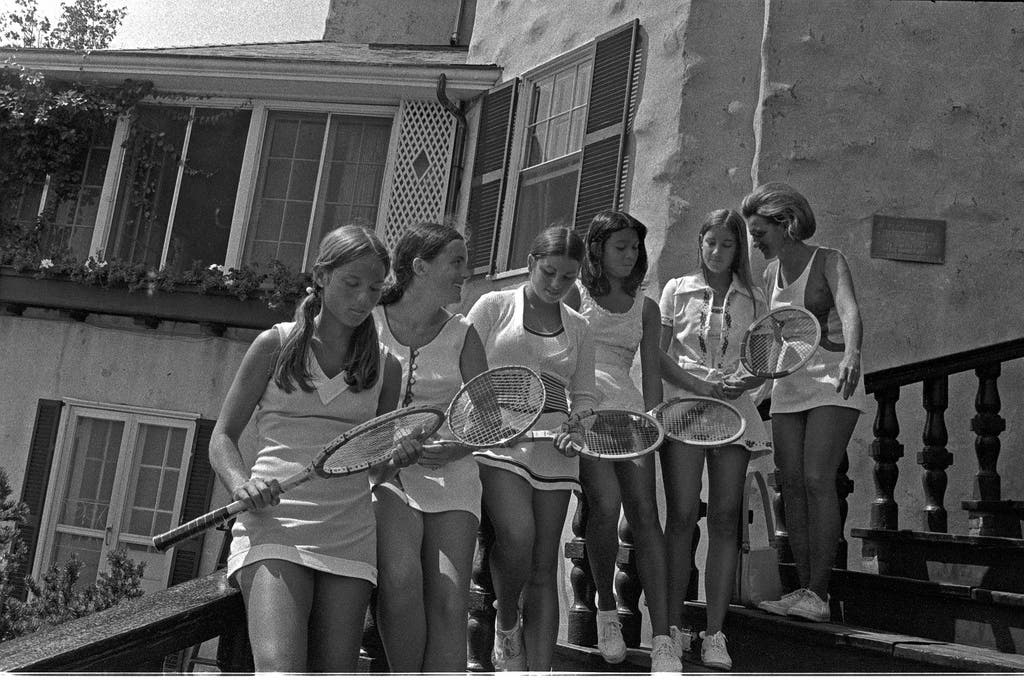 While the incident was probably embarrassing for the jewelry manufacturer, I also think it's fair to note that the intended wear of a diamond inline bracelet was not meant to be an extreme sports tournament. Since 1987 when Chris Evert's tennis bracelet came crashing into the ground, the once infamous tennis bracelet has undergone a few changes and modern updates. Frist of which was the change in how the clasp structure was designed, and the bracelet fastened and removed. To take a look at modern tennis bracelets by current modern designers, not only will you typically see a clasp closure, but it is usually accompanied by a safety chain that hangs loosely at the bottom of the bracelet of diamonds as well. This way even if your designer tennis bracelet comes undone, the likelihood of it taking flight across the room is slim to none. Unless of course, you are an Olympic champion.
Types of Tennis Bracelets
Since 1987 many different types of tennis bracelets have flooded the market. While many people lust after the authentic diamond bracelets, the average person within the span of their adult life, typically cannot afford to buy such an extravagant luxury bauble. These tennis bracelet lovers will opt for purchasing a car instead, while enjoying a cubic zirconia tennis bracelet. The good news is that with modern science, cubic zircon jewelry has become very difficult to decipher from the real thing. Here are some of the most sought-after tennis bracelet styles and purchased designs.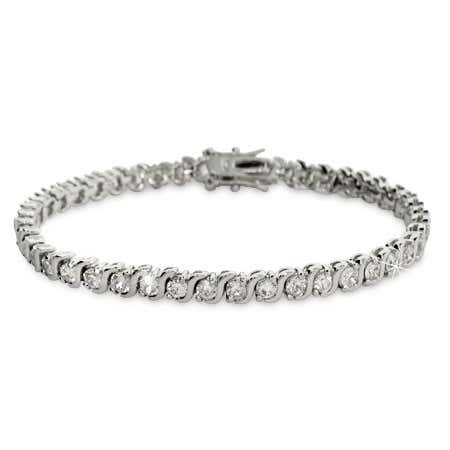 Cubic Zirconia Tennis Bracelet
This single wave cz bracelet, and not surprisingly the closest in resemblance to the Chris Evert tennis bracelet, is amongst the most purchased in the world. Featuring a slip-in clasp lock and box with tongue clasp, this tennis bracelet cz style will remain securely at your wrist until you remove it yourself. Also due to the single wave style, this diamond cz bracelet has free and easy movement that contours easily, making it a great choice for women who are on the move. Made of .925 sterling silver, these white cubic zirconia styles are a happy medium between real materials and man-made materials.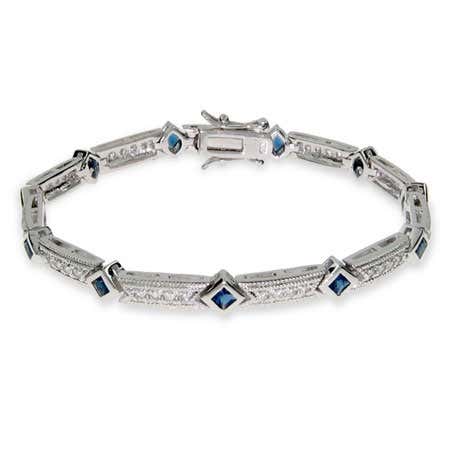 Sapphire Tennis Bracelet
The second most popular choices are sterling silver sapphire tennis bracelet styles. These faux sapphire bracelet styles have the same options available, the consumer can usually choose the type of metal they desire, while the cz sapphire stones keep the price drastically lower than their real sapphire counterparts. Real sapphire bracelets range anywhere from $500 to $1,200 at the lowest prices. A good price point for a real sterling silver cz sapphire bracelet with cz stones runs at around $50 - $70, and therefore makes it much more accessible to shoppers on a budget.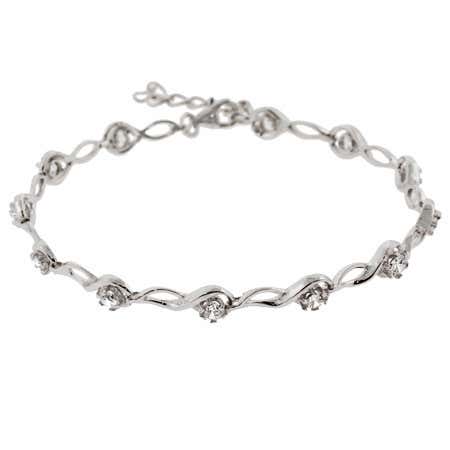 Diamond Accent Tennis Bracelet
Just as some fashion shoppers prefer a pop of color in their outfits, some jewelry shoppers prefer a pop of cubic zirconia in their bracelets. These faux diamond accent tennis bracelets feature little sections of white cz stones in intricate .925 sterling silver settings with strong catch locks and snap guards. A more simplistic style with a light weight design, and interesting setting holds something unique for shoppers seeking the unexpected.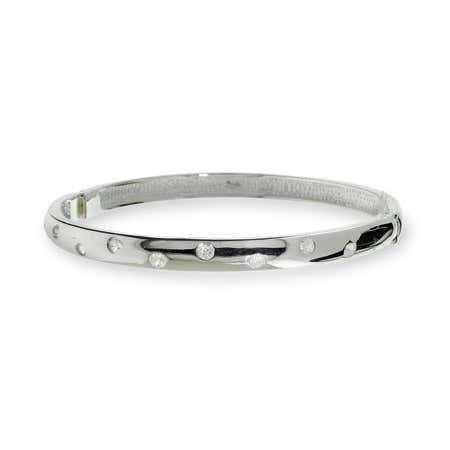 CZ Bangle Tennis Bracelet
Another cz tennis bracelet design beloved by jewelry fans are cz bangle bracelets. You will hear different opinions from various jewelers as to whether or not these bracelet bangles with cz stones are legitimately categorized in the tennis bracelet family. Regardless of their jewelry family, shoppers love and seek out cubic zirconia bangles without hesitation. This slip-on bangle with cubic zirconia stones designs are worn as stackable bracelets by many who prefer to mix and match their pieces. Others wear them because they prefer the luxury feeling of a real sterling silver setting with modern cz stone placements that are surprising.
Source
https://www.britannica.com/biography/Chris-Evert
https://gemaffair.wordpress.com/2009/04/01/the-tennis-bracelet-game-set-and-match/
↑