Skip To Content
Take 30% Off Your Order + Free Shipping on $50+ • Use Code SAVE30
Offer Expires at Midnight
How to Wear a Cocktail Ring
Whether you're new to wearing statement jewelry, or just now discovering cocktail rings, this fun accessory eventually ends up in every woman's jewelry arsenal. Not for the faint of heart, a cocktail ring is a dramatic piece of jewelry that's meant to stand out and to be noticed. Due to its dramatic appearance, not everyone is confident in their choice of when to wear a cocktail ring or even how to wear a cocktail ring. We've listed here some basic ways to wear a cocktail ring in case you're new to wearing big oversized rings. These tips are paired with big cocktail rings online from Eve's Addiction from the most searched styles to the less searched designs. All of these big cz rings are popular. The cocktail ring list's order merely represents that some cz cocktail rings are more requested than others. Don't let that discourage you if you're one of the few who prefer a product that's niche-y from the lower half of this listing.
Antique Cocktail Rings
The most requested cocktail ring types are inspired antique cocktail rings with elaborate designs and old fashioned ring settings. These vintage inspired large cocktail rings are replicated from real vintage ring designs with quality .925 sterling silver settings and cubic zirconia stones. Vintage costume jewelry collectors are especially fond of these kinds of cocktail jewelry rings when there's a piece they can't find, or they've found it but can't afford it. With zirconia stones paired with high quality real silver settings, these evening rings are the ideal middle ground between luxury and cheap rings.
Some people are brave enough to wear their huge cocktail rings all day. While you're welcome to do that, cocktail rings are more of a "cocktail hour" accessory. Drinks which would've been enjoyed in the earlier evening during your grandparents heydey, have in our modern times, shifted to the later evening hours. These ornate vintage cocktail rings are best worn in the later evening. Vintage inspired replicas are perfect wardrobe additions for all of your classy evenings out. Think evening at the opera house, a wedding reception, or fashion runway event. A true inspired vintage style cocktail ring should ideally be paired with evening attire. If you're wondering what to wear, think about what your grandmother would've worn for cocktails back in the day. People used "to dress" for drinks. They would put on a long formal dress or suit, their nice jewelry and watches, and then meet their friends for cocktail hour. We don't have as many occasions now to wear formal evening attire, but your best little black dress at the local theater paired with a retro cocktail ring will do very nicely.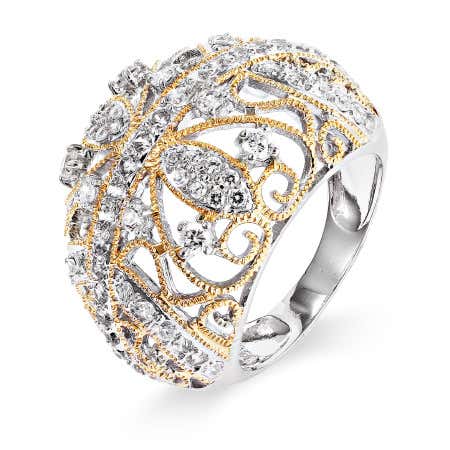 Silver Vintage Cocktail Ring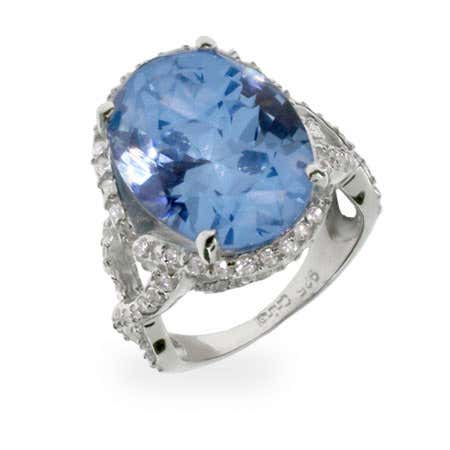 Topaz Vintage Cocktail Ring
Flower Cocktail Ring
Probably the most wearable of the numerous cocktail rings styles are sterling silver flower rings. Unlike many of the other cocktail hour rings we'll discuss here, this is one of the few that can easily be worn during the day. Unlike a huge glittering cz diamond stone, a rose shaped ring or crystal flower ring can be worn even with casual Friday jeans and t-shirts. A flower shaped cocktail ring has an element of fun to it and can be worn dressed up or down. Pair cocktail flower rings with your flower sundresses for an all-over floral look to match your walk in the park, or wear flower cz rings with jeans and a headband for casual Bohemian styles. These floral cocktail rings come set in great quality sterling silver ring settings, and some even use real crystal in place of cubic zirconia stones. If this is your first time wearing a dinner cocktail ring, any of these designs would make an excellent beginner's ring, just to see if it's a piece of jewelry that you'll enjoy long-term.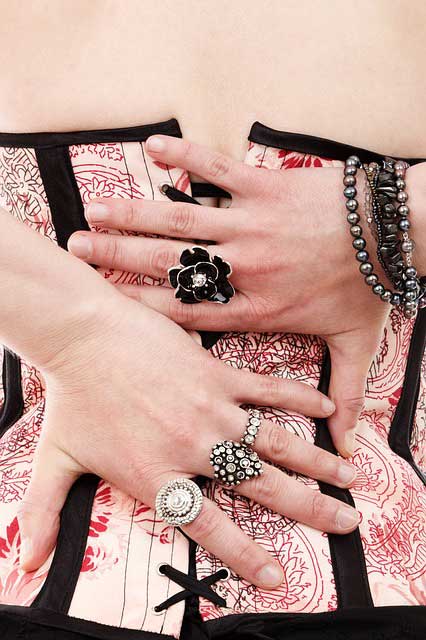 Black Cocktail Ring
Black cocktail rings, and also black and white cz cocktail rings, are very popular choices too. There are many black cocktail ring designs that just feature a large center stone with a beautiful cut, but usually the ornately designed rings are more popular. Using traditional black and white cubic zirconia stones it's easier to get away with when creating very bold designs. What does that mean exactly? For example a cz peacock ring, large black flower, or snake cocktail ring still manages to look classy when created with black and white zircon stones. In another color choice, these styles might look cartoonish, but with clean white and black cz's they look chic and wearable. We've featured the more classic designs here that you could wear with most casual dress outfits, but there are many types of black cubic zirconia cocktail rings online. Cocktail black rings are our favorite large rings for work(excluding the snakes and animals etc which are better for parties). If you like the animal cocktail rings, they can be worn in the same way you that you would the floral designs we discussed before this. For work rings though, we recommend the traditional black cocktail ring designs and also the black and white highway cz cocktail rings. These cocktail ring designs in black and white will match anything you put on, so you won't have to worry about what you're pairing them with in the morning. They're also lighter than some of the other evening dinner rings, so they won't wear you down if you're working at a keyboard all day. Overall, they look fairly professional for being a glittering cocktail ring design.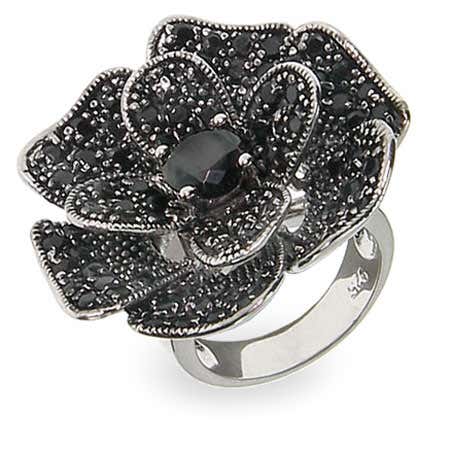 Flower Black Cocktail Ring
Green Cocktail Ring
Large green cubic zirconia rings are some of the most iconic cocktail rings. When first thinking of this traditional jewelry style, there's an idealistic jewelry image that pops into most people's minds immediately. Many people will think of clear, green, blue, and purple cocktail rings, usually with a princess or round cut stone, and typically at least 3 carats large. That's the iconic cocktail ring that many people want, and green cz cocktail rings are definitely some of the most desired. From their vibrant hue, to their high-quality sterling settings, these green evening rings are not to be missed. Your green fashion cocktail ring will be enough jewelry on its own. With a piece this eye-catching we would recommend that you don't pair it with other accessories. If you subscribe to the "more is better" following, then try pairing it with a long hanging pendant in a matching jewelry material. We don't recommend any more than that, or you'll start to look coated or weighted. No lady wants that. Keep it simple and let your cz cocktail green ring attract attention on its own.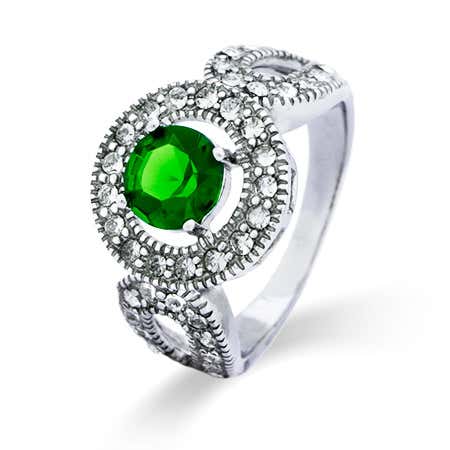 CZ Green Cocktail Ring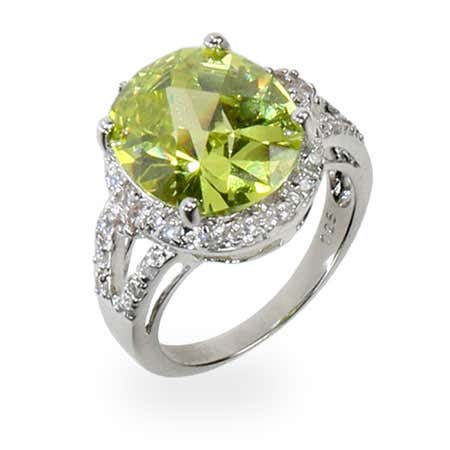 Green Peridot Cocktail Ring
CZ Cocktail Rings
If you love imitation cocktail rings based off of real diamond cocktail rings, then cubic zircon set stones are the way to go. CZ cocktail rings come in any size, shape, setting, material, and variety under the sun. If you can think of it, it probably exists somewhere within the "interwebs". If you haven't been keeping up with the online jewelry community, let us inform you, the cubic zirconia of today is not what your mother had. With the high quality cz stones we have on the market now, it's getting harder and harder to tell the difference between imitation and real diamond; unless of course you're a licensed expert. To save thousands of dollars while still getting the look of a real diamond cocktail ring, take a look at some of these cocktail cz rings that all come in real ring settings.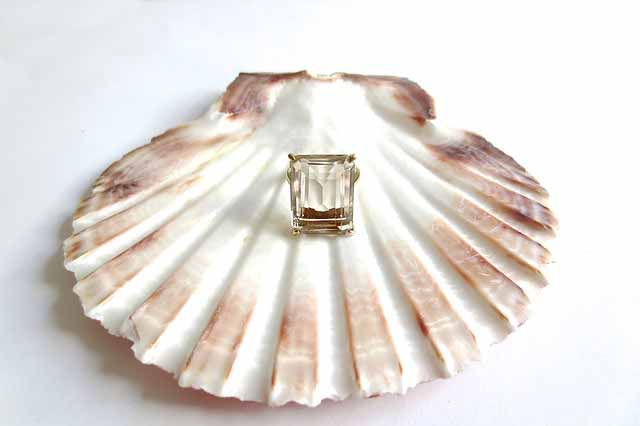 Big Cocktail Rings
For those of you who attest that bigger is always better, there are a plethora of different sized cocktail rings from small, medium, large, oversized, grossly large, and even mammoth designs. Those aren't the correct technical ring terms, but you get the general idea. These giant cocktail rings aren't for the meek and mild, but if you have the guts to flaunt them, they can be gorgeous. Big cocktail rings usually start at 4 carats and go up from there. In our experience with big jewelry shoppers, we find that most women who are fond of oversized cocktail rings, usually like a 6 or 6.5 carat sized ring. Most of them also think that anything more than that starts to look like too much. Whatever your style is, you'll discover what works best for you. One thing's for sure though, no one will miss your 6 carat cubic zirconia cocktail ring, no matter where you go.
Silver Cocktail Rings
If you wanted to buy cocktail rings cheaply, it'd be easy to go to any local store and just get fake doodad. However, those types of cheap cocktail rings usually turn your finger a less than lovely shade of green and may even cause your skin to become irritated. If you're on a budget, but still looking for a quality fake cocktail ring, only an authentic sterling silver cocktail ring will do. Most, if not all, of the cocktail dinner rings we've featured throughout this post are set in real .925 sterling silver for a high quality fake cocktail ring that truly resembles the luxury designs. Cocktail rings in sterling silver won't turn your fingers funky colors and will last much longer than a cheaper cocktail ring in a questionable material. It's only costs a little bit more to get a better-quality cocktail ring in silver. As long as you have a great ring setting, you can always play around with the stone type from cubic zirconia, to crystal, to even glass set stones.
Pearl Cocktail Rings
Pearl cocktail ring designs are timeless creations that never go out of fashion. A large pearl cocktail ring can be worn all day and well into the late evening fashionably. Pearl has always been considered a very elegant material to use for jewelry making in any aspect. While younger women tend to stir clear of it, young professional adults and mature women flock to it. It's an added convenience that they also look great with your grey work dress, but will add flair to your outfit for drinks after work with friends or colleges. This is a great beginner cocktail ring if you're not sure how you feel about wearing dramatic statement ring pieces yet. A lot of women enjoy high quality pearl cocktail rings because of their authentic materials and affordable price point. For example, when purchasing a fake sapphire diamond cocktail ring, shoppers expect to have a cubic zirconia stone, general fake setting, and maybe even a cheap jewelry finish to help the product shine. With cocktail pearl rings, you can skip all of the fake materials for an inexpensive quality fashion ring made with real materials only. The best quality pearl cocktail rings will have a white gold or sterling silver setting, paired with real pearl or mother of pearl centerpiece stones. That means that everything used in your cocktail ring of pearl is actually, well, real. You could spend anywhere from $50 - $100 for a great oversized pearl cocktail ring versus $1000-$4000 for a real sapphire cocktail ring. That's more than a deal, it's a steal.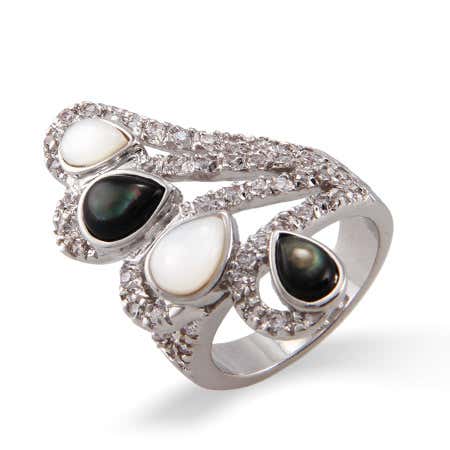 Mother Of Pearl Cocktail Ring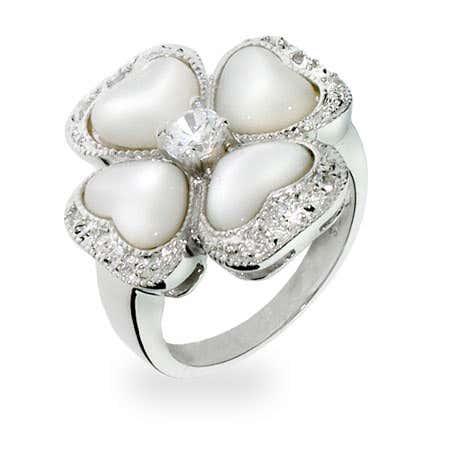 Flower Pearl Cocktail Ring
Pink Cocktail Ring
Pink cocktail rings have become very popular within the last few years, mainly after certain celebrities started showing off their huge pink engagement rings. The pink engagement ring craze didn't really take off for the general public though(probably because we would feel ridiculous sporting one of that size). Though people couldn't imagine themselves wearing a 4, 5, or 6 carat pink diamond engagement ring every day, they loved the idea of a large pink cz cocktail ring. Unlike your engagement ring, you wouldn't be expected to wear a pink cocktail ring every day. A large pink cubic zirconia cocktail ring is perfect for elaborate day parties, fancy events, a girl's brunch, or even just a date at the movies. You can have the fun of wearing a huge pink stone ring, but also enjoy the luxury of not being expected to wear it every day. In our opinion, pink cz cocktail rings are perfect accessories for festive events specifically. Pink is a happy color, so wear these pink cubic zirconia cocktail rings to birthday parties, summer rooftop get-togethers, and to the bar for girl's night out. It IS after all a cocktail ring, pairing it with frilly girlie drinks just makes sense. Note from the wise, don't pair your big pink cocktail ring with pink clothing, it's just too much. You're going for the "classy lady about town" look, not Barbie's day off.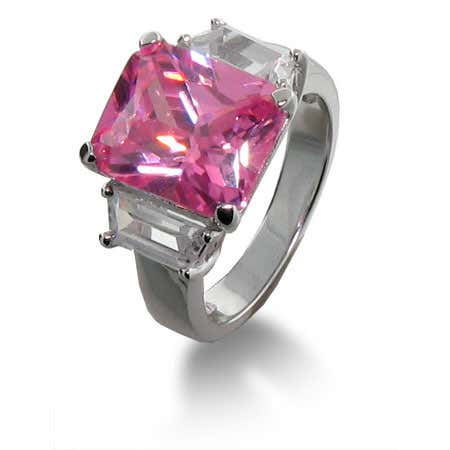 Celebrity Style Pink Cocktail Ring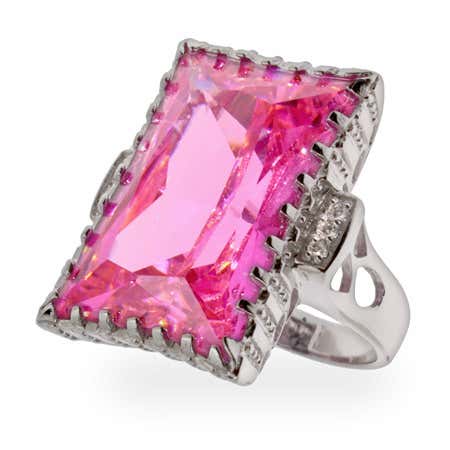 Pink Big Cocktail Ring
Sapphire Cocktail Ring
If you're already a dedicated sapphire cocktail ring collector, then you're probably surprised to see these cocktails rings lower on our list. Typically the kind of personality that's attracted to cocktail ring jewelry, is someone who doesn't shy away from standing out. It's due to that same personality that we believe most shoppers looking for unique cocktail rings, tend to lean more towards to brighter colors and even bolder designs. There are less people shopping for cocktail rings on the "lighter design" side, but those people do still exist and need a fancy dinner ring that suits them. For those who want an understated oversized dinner ring, there are darker colors and more traditional styles like these sapphire cocktail rings.
Cubic zirconia sapphire cocktail rings are perfect for work dinner parties, professional events, and gala events. These rings are the happy medium between a dramatic fashion ring and an outright blingy band. You can still maintain the oversized ring design, but with a traditional stone color to avoid looking too over-the-top. It's perfectly appropriate to wear cubic zirconia ring jewelry to a professional black tie event, but if it's hosted by your boss, you may not want him/her to see you in a large rainbow colored cocktail ring. Most people would prefer to play it safe with something that airs more on the professional side of attire. This type of person will feel more comfortable in a dark sapphire cocktail ring than in a cz pink flower ring. A cz diamond sapphire cocktail ring will seamlessly compliment that beautiful slinky black evening dress in your closet, or go ultra-chic with a white suit for a dressy gala or fund raising event.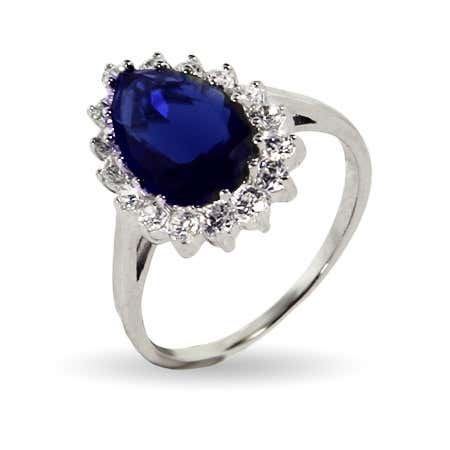 Pear Cut Sapphire Cocktail Ring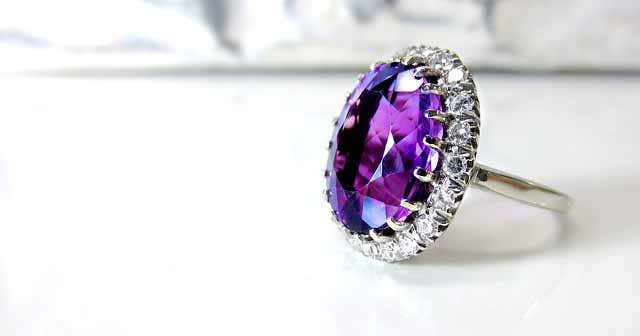 When to wear a cocktail ring
We've given you many ideas about when to wear cocktail rings, specifically by the design that you like, but don't let that limit you! We could give you all the traditional ins-and-outs of what fingers to wear cocktail rings on, which styles mean certain things, but we think there's no fun in that. We at Eve's Addiction have dedicated ourselves to the creation of beautiful and inexpensive quality jewelry. We don't want to be limited by traditions, and neither should you. Although we've given you examples of when to wear cocktail rings, you should be adventurous and play around with these fun rings. If you want to wear a cz snake ring at work, and a 6 carat fake diamond ring in the evening, do it. Pulling off any unique piece of jewelry is about embracing the confidence within yourself and making the decision to own it. If you discover some new tips and tricks on the way, do be sure to let us know!
↑