Skip To Content
Take 30% Off Your Order + Free Shipping on $50+ • Use Code SAVE30
Offer Expires at Midnight
5 Important Monogram Questions Answered
What is a Monogram?
A monogram is usually any combination of two or more overlapping letters, used to create a particular motif. They are perpetually popular for personal use, with most people choosing to use their name or initials as a monogram. Monograms have unique historical significance, going back to the 4th century B.C.E. when Greek city-states emblazoned their initials on coins. These days, monograms are applied to an unlimited number of objects including monogram necklaces, monogram keychains and monogram jewelry boxes.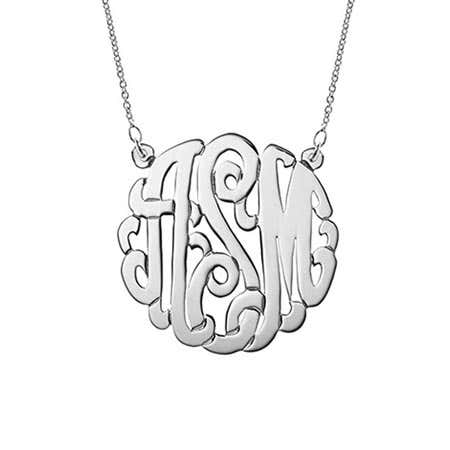 Sterling Silver Monogram Necklace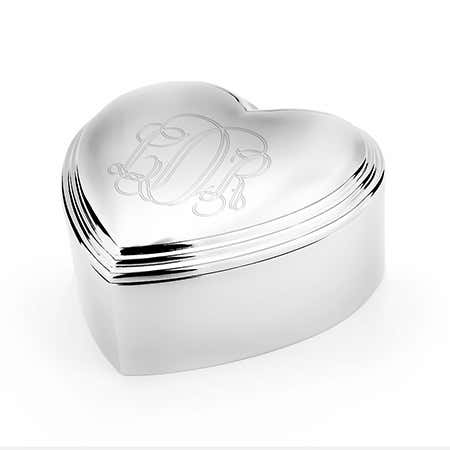 Heart Shaped Monogram Jewelry Box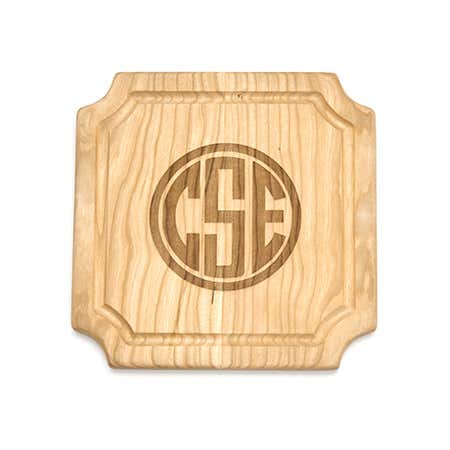 Personalized Block Monogram Wood Cutting Board
What Items Can Be Monogrammed?
The kinds of items to which you can apply a monogram are generally only limited to the designer's imagination. Jewelry is one of the most popular monogrammed items. Almost any piece of jewelry looks great with a monogram, such as monogram necklace, bracelets, rings, and earrings. Whether it's inexpensive costume jewelry or made out of 14k Gold, monograms can turn any piece of jewelry into a personalized heirloom. In addition to jewelry, Eve's Addiction offers a variety of unique monogrammed gifts including picture frames, mugs, water bottles, and more.
What is the Correct Order of a Monogram?
The short answer is: there is no single correct order! However, there are certain, generally agreed-upon ways to employ initials in a monogram that you may want to follow. The most common form of a traditional, three-letter monogram finds the individual's last name as the large letter in the center. On either side of this are the other two letter set smaller, typically the first initial on the left and the middle initial on the right. There are many acceptable monogram variations, though, even using a single letter. Seeing as how a monogram is an expression of your personal style, you should employ a form that has meaning for you!
When personalizing a monogrammed jewelry or gift item on Eve's Addiction, please write the initials in the order you would like them to appear on the monogrammed piece.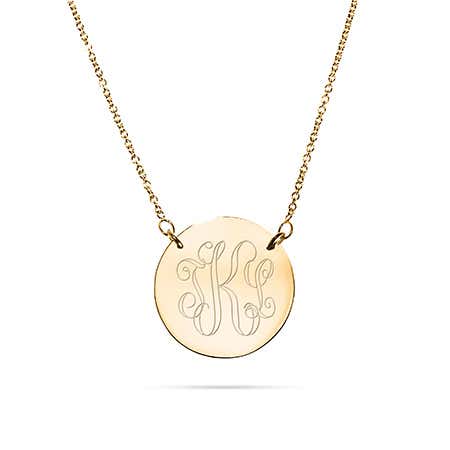 Engravable Gold Vermeil Monogram Disc Necklace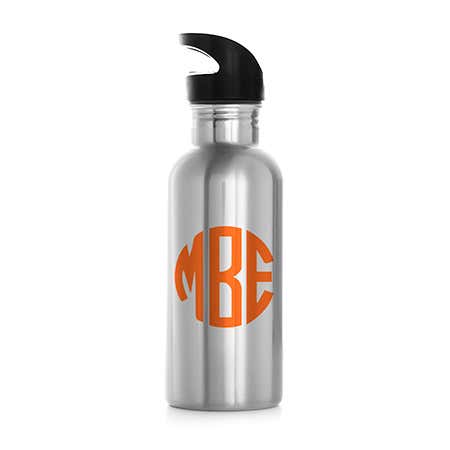 Personalized Block Monogram Stainless Steel Water Bottle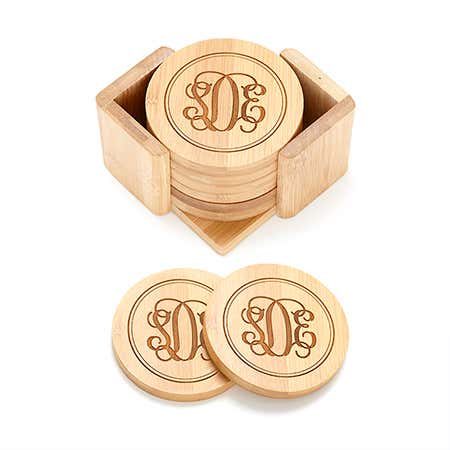 Fancy Script Monogram Engraved Bamboo Round Coaster Set
Why Do People Add a Monogram?
With their stylish distinctiveness, monograms can lend even the most mundane items a personalized and custom touch. People often add a monogram necklace to an outfit to make it truly unique. For some, a monogram can be a symbol that has been associated with their family for generations. Newly married couples may wish to employ their monogram on a variety of products, using it as a symbol of their new life together. Monogrammed items also make spectacular gifts for many occasions, as they add a welcome touch of personalization.
What Monogrammed Items Make a Perfect Gift?
Monogrammed items are the perfect way to give the ultimate personalized gift! Eve Addiction's selection of engravable rings, key chains, and lighters are the perfect way to make a gift unique to that individual. If you are giving a gift to a couple, check of Eve's Addiction's selection of monogrammed coasters, wooden cutting boards, and ornaments. Another great idea for a baby shower is to give the new parents a memento with the new baby's monogram, such as a picture frame. Monogrammed jewelry will delight almost every recipient!
Eve's Addiction offers a large collection of custom monogram gifts, perfect to send for any special occasion.
Source
http://en.wikipedia.org/wiki/Monogram
↑