Skip To Content
Take 30% Off Your Order + Free Shipping on $50+ • Use Code SAVE30
Offer Expires at Midnight
What is a Signet Ring?
Imagine yourself sitting at a desk in the 1800's looking over important documents, holding a contract in front of two men arguing over land. How would you know the contract's authenticity? How would you settle the argument with fact and reason? With no phone, no internet, and no better business bureau to confide in; your only option would be an examination of the signature and provided witnesses. Since witnesses aren't always ease to come by, and in that day and age were even harder to locate, you would predominantly rely on the signature. This need for an authentic, verifiable signature led to the birth of the signet ring.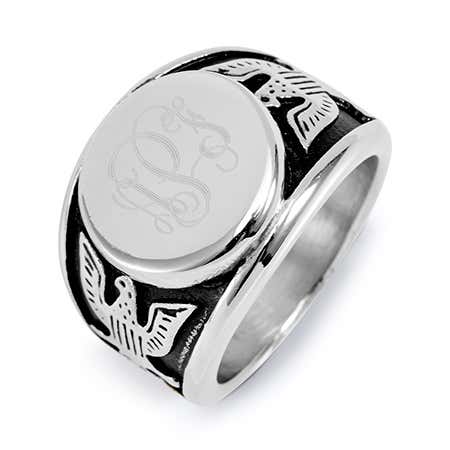 Engravable Men's Signet Ring in Sterling Silver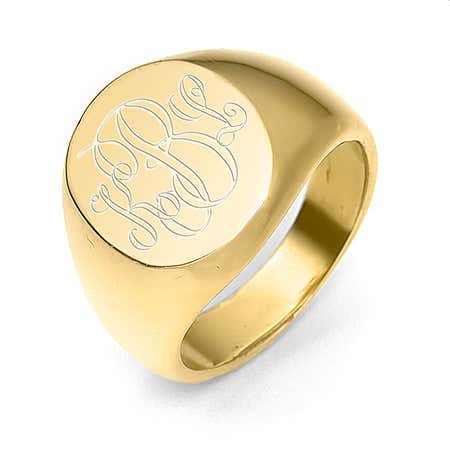 Oval Engravable Gold Signet Ring
Shop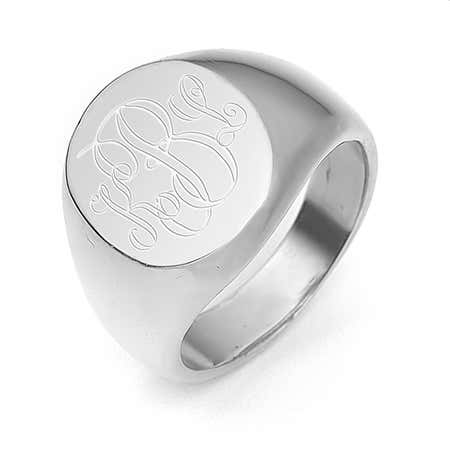 Oval Sterling Silver Signet Ring
Shop
Custom Signet Ring
Years ago a signet ring served as a seal of authenticity and your signature. It could be your family crest and family name your signed, or specifically your own unique signature. If you signed a contract of agreement, it wouldn't include only your house name. It would include your authentic signature and signet seal from your signet ring, which you would've dipped in a clay mixture or hot wax(typically in red) and then pressed onto the bottom of a piece of parchment paper. Having your signet ring stolen would be the equivalent of identity theft in today's society, and just as we don't leave our credit cards lying about, no one left their signet rings unattended either.
These lovely signet rings used to be reserved purely for the rich, elitist, and high society families; but now they are available for everyone and at various price points. With men and women both wearing signet rings in today's society, there are various shapes, materials, and customizable signet rings to choose from.
Common Types of Signet Rings
Custom Signet Monogram Rings
These personalized signet rings with monogram ring styling have become the preferred version of modern signet rings. An engravable signet ring is not only more affordable, but it's also a lot more accessible. One additional benefit of modern monogram signet rings is that you can find more intricate and elaborate designs that will still stand out similarly to their intricately designed predecessors. Look for larger block monogram ring styles for an elaborate historical feel in your monogram jewelry. Though monogram rose gold signet rings are favored by women, the custom men's gold signet rings are favored by men. We've seen that the custom sterling silver monogram rings are more typically ordered as gifts for friends and family.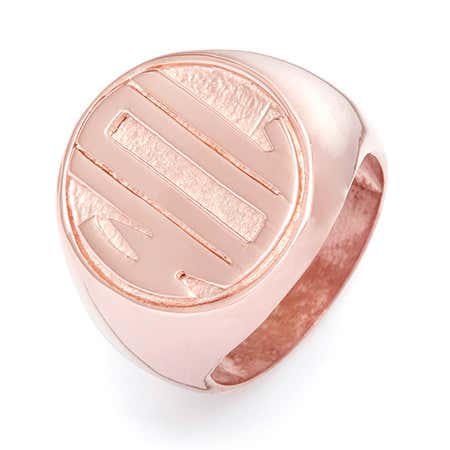 Monogram Custom Rose Gold Signet Ring
Shop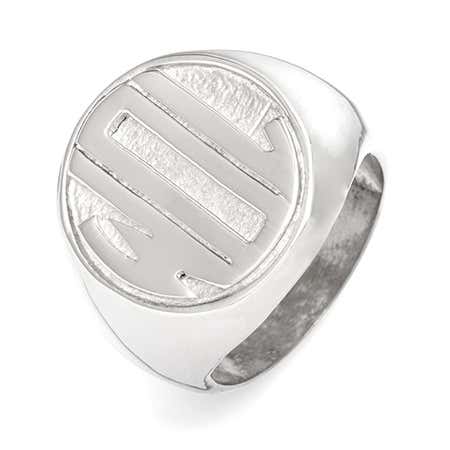 Monogram Custom Silver Signet Ring
Shop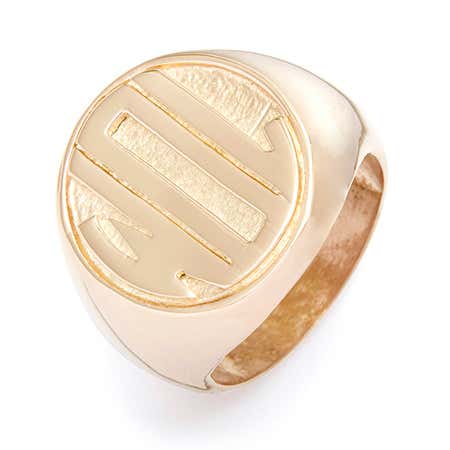 Monogram Custom Gold Signet Ring
Shop
Unique Signet Rings
This unique rings feature untraditional signet ring designs from a round lattice worked edge to cable inlay work. These men's black titanium rings feature engraving options on both the outside and inside so that you can custom design a ring with your message, date, or family name. The lattice edged sterling silver ring adds beauty to an already elegant design featuring your initials on a ring in beautiful scripted font. If traditional signet rings seem too passé for you, then try a new signet ring design featuring special inlay techniques, baroque ornamentation or the dark colors as seen in the signet ring black jewelry.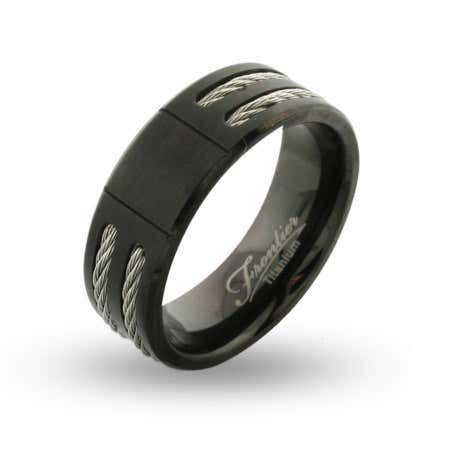 Men's Black Signet Ring With Cable Inlay
Shop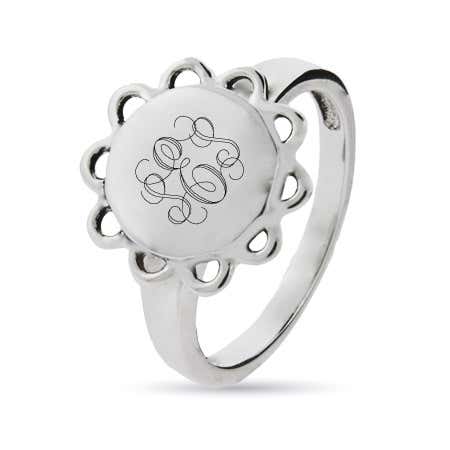 Sterling Silver Round Signet Ring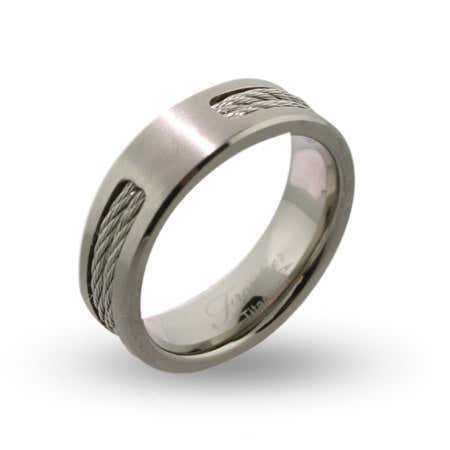 Engravable Titanium Cable Inlay Signet Ring
Name Engraved Ring
Another alternative signet ring favorite is the engravable name bar ring. Many people are opting to use their last name as a signet ring engraving instead of using an emblem or symbol. Though custom name engraved rings were originally designed to be engraved with someone's first name, the new trend is to feature the last name or family name. The engravable name bar rings are popular for women. There are men's engraved name rings available in masculine designs, but this simple engraved name bands are the favorite and most sought after.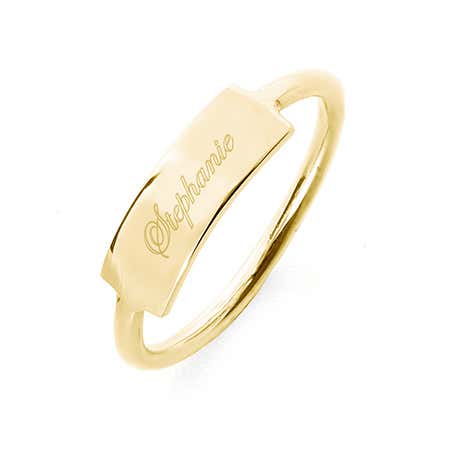 Engravable Gold Bar Ring
Shop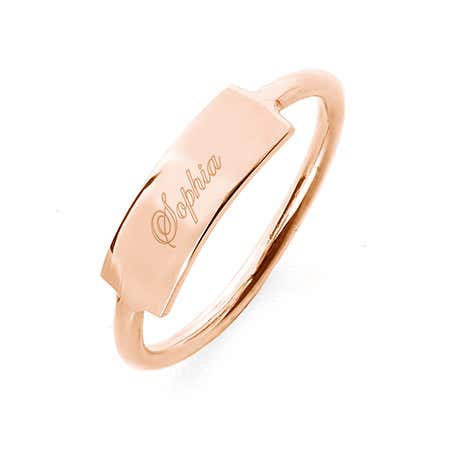 Women's Rose Gold Signet Ring
Shop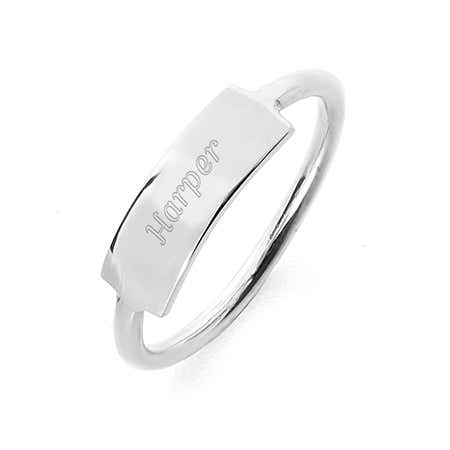 Women's Sterling Silver Signet Ring
Shop
Simple Engravable Signet Rings
These simple custom signet rings come in styles for men and women featuring a simplistic signet ring design that is very comfortable for day-to-day wear and lightweight for the wearer. If you're a signet jewelry lover who loves elaborate ornamentation and deeply carved initials on your jewelry, you may be surprised to find that these simple engravable signet rings are some of the most popular styles sold. Your signet ring finger won't tire with these lightweight ring designs. Each simple customizable signet ring features delicately carved initials and traditional shapes with the oval being the most requested.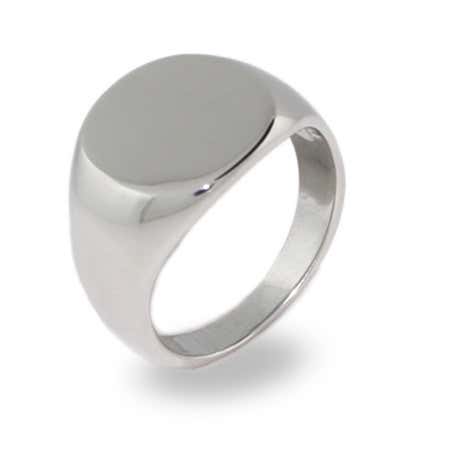 Women's Simple Sterling Silver Signet Ring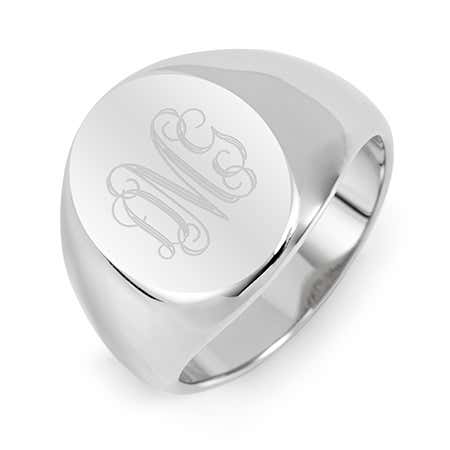 Men's Engravable Oval Signet Ring
Shop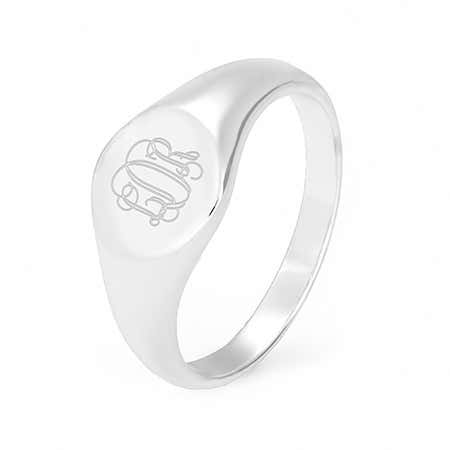 Petite Engravable Sterling Silver Signet Ring
Shop
Cubic Zirconia Birthstone Signet Ring
If you like the idea of a signet ring, but aren't thrilled by the elaborate designs, or strong architecture of more traditional signet rings, then a cubic zirconia signet ring may be the perfect middle ground for you. Both of the cubic zirconia signet rings featured below are custom engravable designs that have become signature signet jewelry styles. One faux diamond signet ring uses white cubic zircon stones, the other customizable signet ring allows you to pick the color of cz stones that you want. Most people do base their choice of cz color on their birth month, but you don't necessarily have too. For a unique design try featuring the month your family settled somewhere, or it can be worn as a memorial to the family name featuring a loved one's birth month. This custom cubic zirconia signet ring is yours to customize as you please.
CZ Custom Birthstone Signet Ring
Shop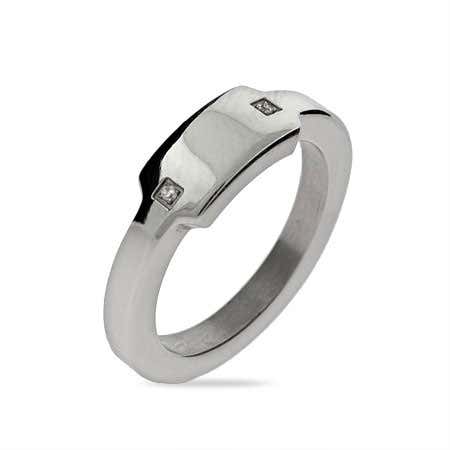 Women's CZ Signet Ring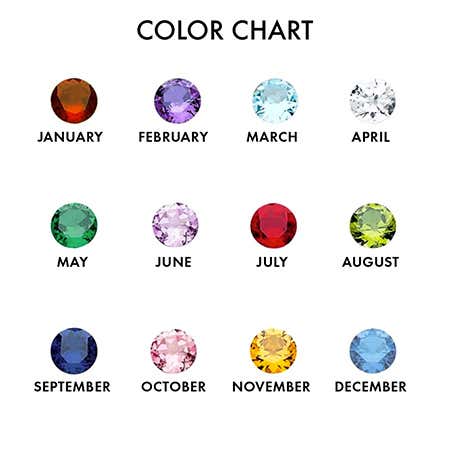 Personalized Custom Birthstone Signet Ring
Shop
Sources:
↑