Necklace Size Chart
Women's Necklace Size Chart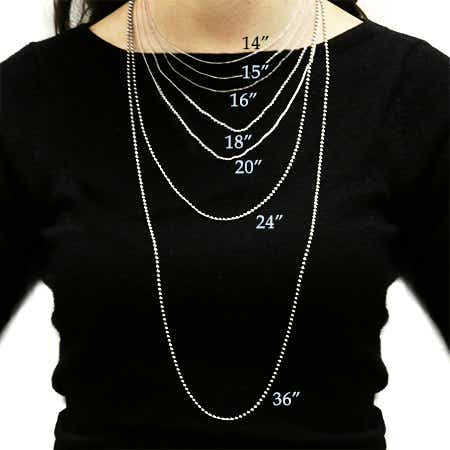 The right necklace lengths vary from person to person. Standard women's necklace lengths are 16 to 20 inches, but different chain lengths are appropriate for different styles and outfits.
16": A 16" necklace hits just above the collarbone and fits like a choker. This is the ideal length for petite frames and is one of the most common women's necklace lengths.

18": An 18" necklace falls right about at the collarbone and is the most popular chain length among women.

20": A 20" necklace falls a few inches below the collarbone, perfect for women who want some breathing room with their chain. This length chain works best with a higher neckline.

24": A 24" chain falls below the neckline.

36": A 36" necklace hangs below the bust and is typically reserved for long, beaded necklaces such as pearl necklaces. They are often wrapped around twice to form double strand necklaces.
Men's Necklace Size Chart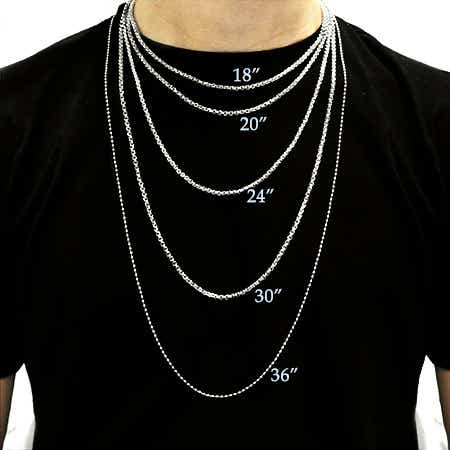 18": An 18" men's chain hits at the base of the neck and is best for young men and men with smaller neck sizes.

20": A 20" chain is the most common length for men, falling at the collarbone. This is a good length for a men's chain with a pendant, as the pendant will not sit too high or fall too low.

24": A 24" chain falls just above the sternum.

30": A 30" chain falls mid-chest and is typically used for plain chains without pendants.

36": A 36" chain is extra long and falls below the chest.
Eve's Addiction Chain Types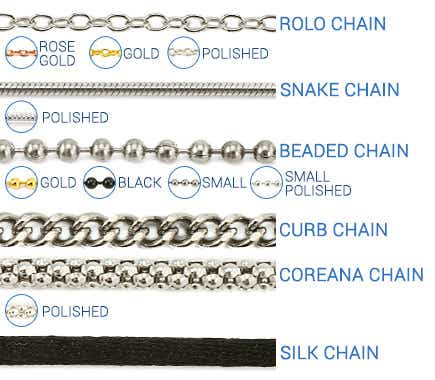 Rolo Chain - A rolo chain is made up of symmetrical links joined together. This is one of the most standard types of chains for women's pendant necklaces. For a gold vermeil necklace, we have a gold vermeil rolo chain. We also have rose gold vermeil rolo chains, polished rolo chains, and various fancy rolo chains like our silver beaded rolo chain. We carry rolo chains in a variety of lengths ranging from 14 inches to 20 inches.

Snake Chain - A snake chain is not made up of traditional links, but rather links that are very tight and form a more bendable, tubular style of chain. We carry a variety of snake chains varying in length and gauge, from standard all the way up to our heavy 5mm snake chain.

Beaded Chain - A beaded chain, also called a ball chain, is made up of small metal balls connected via short lengths of wire. This is a popular style of chain for dog tag necklaces. We have a wide variety of bead chains, including gold vermeil beaded chains, black beaded chains, and small beaded chains. We also have beaded chain extenders, perfect for adding on to dog tag necklaces.

Curb Chain - Curb chains feature flat, interlocking links which make for a very sturdy chain. Curb chains are most popular as men's necklaces and are often worn on their own. Thin gauge curb chains can also be worn with pendants.

Coreana Chain - Coreana chains are also known as "popcorn chains" because of their textured look and feel. We carry both standard and polished coreana chains in 16 inch and 18 inch lengths. Coreana chains are sturdy and great for supporting heavy pendants.

Silk Cord - A silk cord feels smooth against the skin and allows pendants to swing freely on the chain without making any noise. A black silk cord necklace is perfect for a casual outfit. It is adjustable from 17 inches to 19 inches and is also available in 20 inch and 24 inch lengths. We also have braided silk cord necklaces in white, black, and apple green.

Visit our Chains category for our entire selection of necklace chains