Skip To Content
Take 30% Off Your Order + Free Shipping on $50+ • Use Code SAVE30
Offer Expires at Midnight
How to Clean Sterling Silver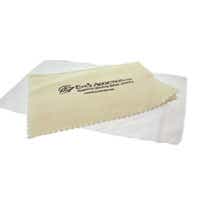 This polishing cloth is perfect for removing tarnish from your sterling silver rings and necklaces and for cleaning your rhodium finished sterling silver.
The sterling silver pieces that Eve's Addiction offers to our customers is always 92.5 percent pure silver. Pure silver, also known as fine silver, is very soft and would easily damage. Therefore, this pure silver is combined with another metal, most commonly copper, to create a much harder and more durable silver. 92.5 percent of the silver product is pure silver and the other 7.5 percent is copper. Copper is used because it improves the metal's hardness, without changing the beautiful color of sterling silver collection. After all, we just adore sterling silver metal type.

Sterling silver alone has a value, but the design and intricacy of each piece affect the price accordingly. Our goal is to find the best value for your dollar in the pieces that we offer to our customers.

Stamps of Quality
You will see on our pieces of jewelry a stamp of quality, or fineness mark. This will appear as .925, sterling silver, or sometimes "ster". Sometimes the jewelry item is too small for the mark to be placed, but be assured that we have inspected each piece to be sure that it is .925 sterling silver.

Rhodium Finished
Some of our sterling silver collection is rhodium finished. The jewelry is crafted of .925 sterling silver and a finish is carefully applied over the piece. This rhodium finish adds a luster that gives silver the same, high-quality look as platinum and it eliminates tarnishing completely. We will specify in our descriptions if a piece is rhodium finished. Most of our jewelry pieces with cubic zirconias do have the rhodium finish, as it makes for easier care and eliminates scratches in the sterling silver.

Care of Sterling Silver
We recommend that you store your sterling silver necklaces, rings and bracelets in a cloth pouch, or in a separate compartment in your jewelry box, to protect the pieces from scratching. Put your jewelry on your body after applying hairspray or perfumes. You must never expose your jewelry to household chemicals or chlorinated water. These chemicals can do damage to the silver over time. Tarnish will build up on your sterling silver pieces, especially on pieces that you don't wear often. This tarnish is easily removed with fine silver polish or solutions that you can find at most jewelry, hardware or grocery stores. Keep a cleaning cloth handy and before you wear your silver, rub it lightly with the cloth to remove any tarnish.

Rhodium finished pieces only need to be wiped with a soft cotton cloth to remove any spots. Do NOT use silver polishes at all on these pieces. Remember rhodium will not tarnish.

For deep scratches that you might get on your sterling silver necklaces or rings, you should seek the advise of a qualified jeweler in your area. A professional buffing might alleviate those scratches. Your sterling silver pieces will last forever when properly cared for!

Care of Stainless Steel
Stainless Steel jewelry will never tarnish so there's never any need to use chemicals on it. However, if some dirt or residue accumulates on the stainless steel jewelry, you can use steam or warm water with a non-abrasive soap to remove them. You may also use a soft, clean cloth for polishing it up.

Care of Gold Plated
To clean your gold plated jewelry, you may polish it with a soft clean cloth to polish the piece. Never use silver polish or abrasive cleaners as that could ruin the gold plated piece of jewelry. Use steam to remove any dirt that might have accumulated on the piece.
↑